Miller's Greenhouse (23 images)
Construction of a solar passive high tunnel, zone 4-5
Click a picture to see a larger view.

---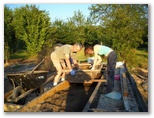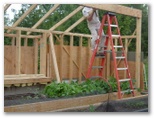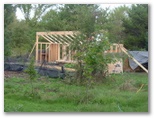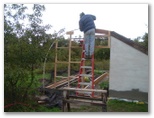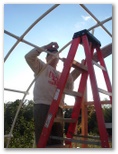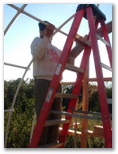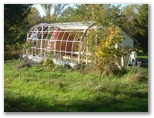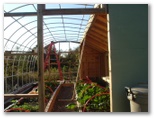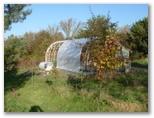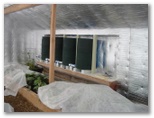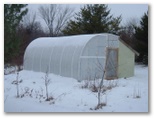 There are notes about the construction of the greenhouse on each page.


Results
I've been asked to list results of the various plants I've been experimenting with. Sorry, I haven't listed all the varieties here, but you can inquire.

Through 2012 - here are the successes (ie, the things we ate the most, some of the previous successes, like pac choi, we just didn't eat for some reason.)

Several varieties of lettuce, esp oakleaf, butter, romaine
Ditto for kale - russian red and lucinato (black) kale
Ditto for chard - red & bright lights
Spinach - American & Noble
Savoy cabbage
Cilantro, parsley, onions (half grown already)
Beets & carrots - added in 2011
Collards
Mache & claytonia
Endive
Arugula, and radicchio - added in 2012
We plant about Sept. 1, and by late September or early oct we are thinning for salads
We now let the greenhouse go dormant in the summer. We start pulling things out as we eat them in March.
Things that didn't do well: kohlrabi, broccoli, brussel's sprouts, shallots
Things that did well, but we didn't eat: pac choi, tatsoi

Planted in fall of 2009, a single layer of floating row cover (4 degrees) was added. The inside-outside temperature differential is 20 degrees: Russian red kale, chard, tatsoi, pac-choi, lettuce, kohlrabi, parsley, cilantro, snow peas, savoy cabbage, red cabbage, broccoli, brussels sprouts arrowhead cabbage, mache (corn salad), claytonia (miner's lettuce), beets, carrots, violets, nasturtium, canterbury bells.

In December, -15 when we were out of town knocked back the lettuce and chard, which were not quite that hardy.
We added a 2nd layer of floating row cover (8 degrees) in January, and in Feb., added water bottles down the centers of the beds ~ every 4' feet or so, under the floating row cover.
After those additions, the soil never got below 42, and the water in the bottles never froze at all, even when it was below 0 inside the greenhouse.
The kohlrabi never really amounted to much. It'd been planted in the SW corner, the coldest spot, and the leaves routinely got nipped. The roots didn't develop
The beets produced great greens, but the beet roots barely developed and were woody
The carrots grew slowly all winter and were reasonably tender in the spring, tho not large
The snow peas .... eh
As might be expected the claytonia & mache were magnificent, but all the rest of the greens except the lettuce and chard, which never quite recovered from their December shock, were pretty magnificent too
By Feb, when the days began to lengthen, everything was growing like mad and we were begging our neighbors to come and get greens.
Pac choi, tatsoi, kales, began to bolt and flower with the coming of spring. And I began to ruthlessly pull them out to make room for replanting.
The tatsoi'd formed these beautiful large rosettes that were too pretty to eat, and then suddenly bolted for the sky. Next winter we'll eat them

Planted in Feb/March of 2010: carrots, fresh kale, cabbage, chard, parsley, pulled out the mache.

The carrots I planted in late Feb developed quickly (tho not large) and we harvested them in April - wonderfully tender and sweet
Everything that I planted at this time grew rapidly

Planted in April/May of 2010: as the last of the 2009 greens were removed (except the chard) I replanted w/ new greens.

Planted lettuces, but it got too hot inside for them to do well
Planted 1 tomato by way of experiment. Although the windows were open, only a couple of fruit developed. Lots of growth tho. I should have known that although the ambient light from the opaque twin-wall is better for growth than direct light, the amount of direct light is important for fruit to set.
Planted peppers - ditto results as for tomatoes. They do better outside, or would need supplemental light which is not on the agenda.

Planted in August 2010: lettuces, chard, mache (in that coldest SE corner), claytonia, kales, more cabbage.

The cabbages I planted in the spring are ready to harvest.
This year's experiment is shallots. I planted some that were pretty small from my summer crop in our main vege garden. I'm curious to see what'll happen. (ehh - so so)

Sept 1, 2011 - planted all from previous years plus beets and carrots - which did very well. By March, 2012 we starting simply pulling things out as we got ready for the summer garden.
Sept 2, 2012 - plantederratic all from previous years, plus moved half grown onions from main garden - this year's experiment.
The even more amazing thing about this is not the greenhouse, but the community where I live. I'm a very erratic member of a local garden group who take turns visiting each others' gardens during the spring-summer-fall. They came to see our gardens and greenhouse last night.
They included:
A couple whose son & daughter-in-law ware professional permaculture trainers, who picked and preserved 47 pounds of mulberries last year (they're young!),
a woman who knows about how to determine whether one's compost tea has the correct balance of fungi, bacteria & nutrients,
a woman growing extremely late, tall, mums, -- who'll give me cuttings
a woman & husband whose extensive most-seasons gardens comprise about 20 'mini-greenhouses',
women collecting and raising various native & prairie wildflowers,
a family whose 20-something daughter is a trainer for John Jeavons (who, if you haven't heard of him) is the 'garden-guru' who wrote "How to raise more food than you thought possible in less space than you can imagine" - the bible of organic & bio-intensive gardeners.
And then a bunch of people who are only mild or minimal gardeners but who love to go once a week and just look at someone's garden.
This tiny community of 10,000, located in the rolling hills of SE Iowa, Fairfield, IA, includes (and this list is woefully short).
A small university whose educational programs include a program in sustainable agriculture
An eco village where families build off-the-grid homes, and who trains & interns would-be gardeners & farmers in sustainable, organic gardening & farming
Huge university-owned greenhouses growing organic produce for the university and the community
An excellent whole-foods market providing mostly organic produce and grocery items at very reasonable prices
Apparently more restaurants per capita than San Francisco, or so they say
A thriving First Friday Art Walk with themed events each month, heavily attended by folks from all over south-east Iowa, and featuring artists, musicians & entertainers from well beyond the Fairfield community
The Iowa Source, a regional monthly news-magazine providing fascinating articles about the arts, people, literature, and goings on for much of Iowa
The Weekly Reader, a weekly newspaper doing the same
Fairfield won a designation as one of Iowa's Great Places in 2009
A new arts & convention center including the Steven Sondheim Theater