Greenhouse -- greenhouse_10_09c.jpg
First | Previous Picture | Next Picture | Last | Thumbnails

---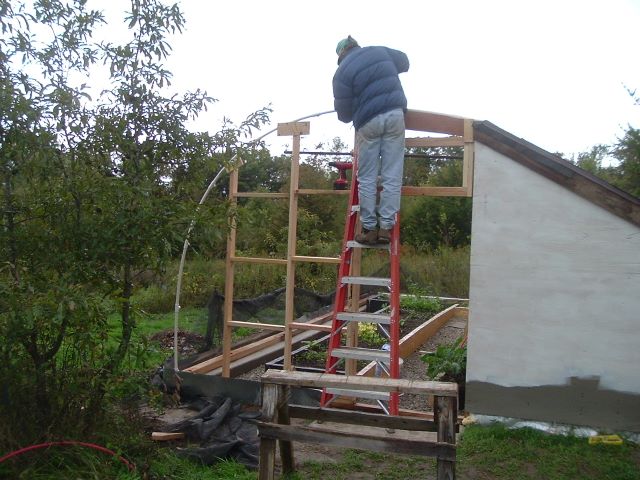 We framed the end walls - all except the tops, which would need to be curved. The rest of the roof of the greenhouse is going to be 1" pvc with 1/4" rebar inside it. We're using 5mm solex twinwall polycarbonate as the outer skin. It has to be fastened 2' oc, so we've got 1" pvc T's every two feet along that piece of pvc which Barry is holding in place.

What we're doing right now is the mark where the PVC intersects with the vertical framing members - which we cut a little long. The end wall is just tacked into place. Then we simply carried the marked endwall framing section back into the garage to add trim to the right lengths and add the curved pieces.

The east end took us a while to work out the technique, the west wall was more or less a snap. We must have carried that east wall to and from the garage about 4 times to get it right.

A note on the plywood siding - which is just primed here, we caulked heavily between the flashing and the siding - both inside and out - going overboard to avoid leaking air. We also filled any dead air spaces behind the flashing - between it and the concrete - with insulation.